Harvesting Work (Raking)
Blueberry Harvesting Conditions:
Seasons vary slightly depending on location, but the peak season is generally from
mid-June to mid-August.
Working piece rate: emphasis is on speed. Most use the biggest rake they can
handle, increasing strain.
Working in stooped posture: worker's torso is bent over most of the time.
Carrying loaded buckets exceeding NIOSH recommendations.
All of these harvesting and pruning conditions may contribute to muscle strain injuries, especially in the back, knees, wrist, arm and shoulder.
Harvesting and pruning conditions are also affected by bush varieties.
Northeastern blueberry varieties:
Lowbush Blueberries (6-18" high):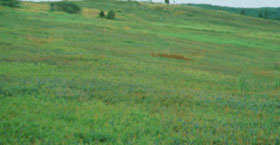 Grow wild in northeastern states and Canada
More bending/kneeling
Maneuvering around support wires or netting
Doesn't require ladders
Harvested with rakes
Highbush (cultivated) Blueberries (8-10' high):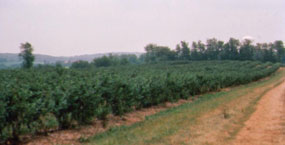 Grow from Florida to Maine
More reaching – creates strain
Ladders may be needed
Harvested by hand or mechanical harvesters