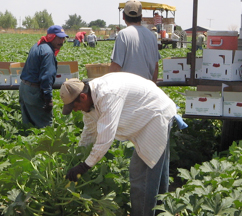 Harvesting
Harvesting Facts: Most ground crop harvesting work involves significant bending and stooping, and also long hours in hot, dry conditions.
Major components
Many ground crops are hand-harvested using a knife. Others are simply pulled off of the plant.
The worker pulls vegetable from plant or soil, or cuts vegetable from stem or root.
Frequently involves long periods of stooping, which is associated with low back pain.
He/she then puts vegetables in container or lays bunches of vegetables along row for collection. Carries containers or armloads of bunched vegetables to collection point.
Loads vegetables on trucks or field conveyors.
May tie vegetables into specified-size bunches, using wires or rubber bands.
May cut top foliage from root vegetables, using knife.
May wash vegetables.
Examples of some common ground crop harvest knives